Constructed with superior natural materials, the Talalay Latex pillow delivers superior reactivity, contouring support and enhanced breathability for an exceptionally restful night's sleep.
Sold exclusively by Brooklyn Bedding.
Derived from the sap of the Hevea breasiliensis (rubber) tree and produced using eco-friendly methods, sustainably sourced Talalay latex is hypoallergenic and gentle on the skin.
Available in both high and low loft levels, the Talalay latex pillow provides just the right amount of lift for back, stomach and side sleepers.
Hyper-responsive latex foam delivers superior support and gentle contouring for the head and neck, promoting healthy spinal alignment for every type of sleeper.
Inherently breathable Talalay latex delivers up to seven times greater airflow than other latex foams for a cooler night's sleep.
A moisture-wicking, antimicrobial cover maintains a hygienic and dry sleep environment.
Talalay Latex Pillow
Which loft is right for you?
Side Sleepers: Most side sleepers should opt for a higher loft pillow, which cradles the neck and head while elevating the shoulders.
Back Sleepers: Back sleepers have the latitude to sleep on either high or low loft pillows; back sleepers who snore or suffer from sleep apnea, however, should choose a higher loft pillow to better open their airways.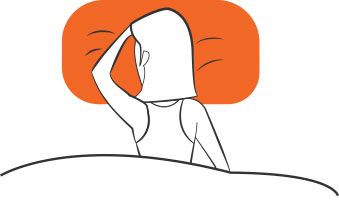 Stomach Sleepers: Stomach sleepers should look for a lower loft pillow to create a more neutral spine position—this will help you avoid stiffness, aches, and pains in the neck, shoulder and back regions.
Brooklyn Bedding
Industry Reviews
"Owning their own factory gives Brooklyn Bedding extraordinary control over their materials, cost, and assembly specifications."
Sleepopolis
"[Brooklyn Bedding offers] high-quality product sold at extremely competitive prices. Their direct-to-consumer business is reflected in the brand's ability to pass savings along to their customers."
Sleep Advisor
"There's no doubt with Brooklyn Bedding that the designers and manufacturers are mattress experts and knew very well how to make a quality product."
Mattress Clarity
Brooklyn Bedding
Frequently
Asked Questions